Icosaèdre
Icosahedron
Un peu de maths !
A bit of mathematics !
Un icosaèdre est un solide de la famille des polyèdres, contenant exactement 20 faces triangulaires. C'est à la suite de l'achat d'une très grosse quantité de pièces triangulaires (n°76) que cette idée m'est venue...
An icosahedron is a solid belonging to the polyhedra's family, containing exactly 20 triangular faces. I had this idea after purchasing a huge quantity of triangular parts (# 76 part)...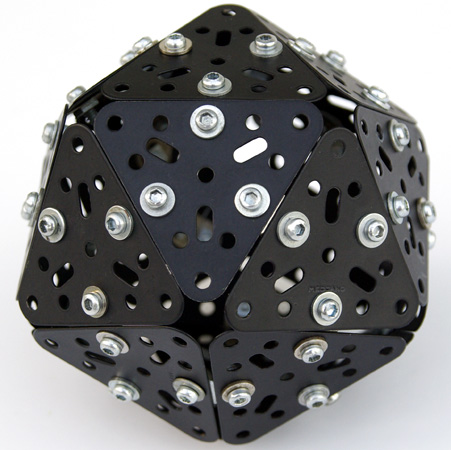 Une fois l'icosaèdre construit, que peut-on en faire ? Par exemple le monter en forme de globe terrestre !
Once the icosahedron constructed, what can we do with it ? For example, a weird model of the Earth!